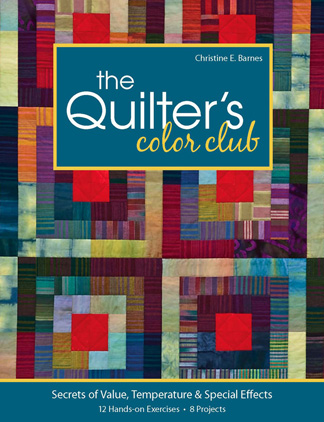 Welcome to my site! I hope you'll find lots of ideas and inspiration on these pages, motivating and encouraging you to work with color in new ways.
You can still see my series "Special Effects with Color" on the "Classroom" page of "The Quilt Show." There are 10 lessons, beginning with the basics, followed by mini lectures and lots of examples of transparency, luminosity, luster, and opalescence. The lessons are available to everyone, though you'll need to sign up as a "Basic" (free) member using an email address and a password.
I'm having so much fun working with color in ombré (gradated) fabrics, and I will soon have a pattern for my "Lustrous Squares II" quilt, shown here. I made the blocks using my kit of 5-inch strips of Gradations ombrés. I have another kit of ombré strips from a different collection, "Gelato," as well as yardage from both collections. I've also added two neutral ombrés and four other colors (as if you didn't have enough to tempt you). To see it all, visit the Store. These fabrics work magic in quilts!
Be sure to check out my two retreats in 2013, both at Sugar Pine Quilt Shop in Grass Valley, CA. Email me if you have questions. (p.s. The shop and classroom are wonderful!)
Sign up for my e-newsletter, "Christine's Color Connection," here. To access back issues, with color lessons on "new-neutral" color, luminosity, "magic fabrics," transparency, visual temperature, and the color wheel, click on Archived Issues.